Frequency Product Recommendations for Wearable Applications
Tiny, intelligent, and beautiful.
Our recommendations for the intricate world of wearables
Wearable projects present unique challenges: demanding the smallest, lowest power consumption and best value parts.
All of the components within our wearables collection have been specially chosen for their combination of tiny form-factor, low power consumption and competitive price to make choosing these parts easy.
Get more space for your board and your budget with our specially chosen wearables-recommended parts.
Find the Golledge wearables component collection within our component model libraries
To make life a little easier for the design engineer we've put together a library of parts we specially recommend for new designs. Within the Golledge part libraries you can find schematics, package drawings and further product details to help with designing-in Golledge components. All of our wearables parts are available within the libraries, suitable for use with Autodesk Eagle, Altium Design and Pulsonix, along with other industry favourites from our product range.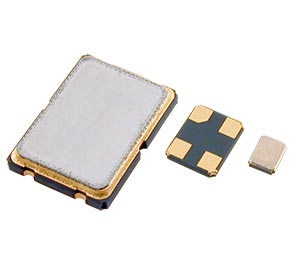 Crystals for Wearable Applications
So small they're almost not there: these tiny form-factor crystals are perfect for microcontroller, module, and SoC pairing.
---
Oscillators for Wearables Designs
Chosen for their high reliability and tiny form-factors, these robust oscillators perfect for the high-mobility, high-demand lifestyle of a wearable product.
---
Temperature Compensated Oscillators (TCXOs) for Wearable Applications
High accuracy when you need it most - these TCXOs combine a highly accurate signal with small form-factor and low power consumption, the perfect match for those additional functions like GPS that demand the best performance.
---
RTC Modules for Wearables
With class-leading low power consumption, these RTC Modules provide extra functionality where it's needed most.
---