Engineering Samples - The Golledge Sample Box
Our sample boxes include the top 14 products our engineers recommend for design-in, you can use the links below to quickly find full product datasheets and ordering information for each part.
Get engineering samples at your fingertips
Are you designing for a new product and need instant access to frequency components? Speak to a member of our team today to order your super easy sample box from Golledge. Our super easy sample box contains 14 of the most popularly used products from our watch crystal, high frequency crystal and oscillator ranges. Speak to a member of our team today to find out more by calling +44 1460 256 100.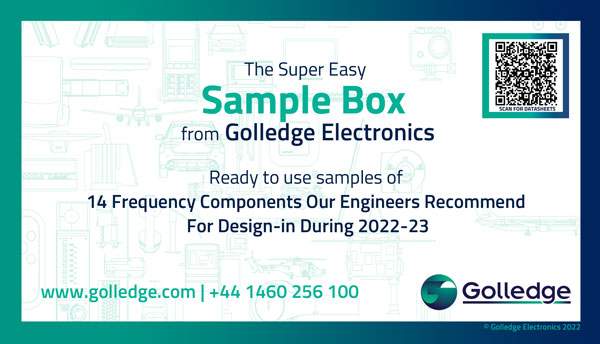 2022-23 Frequency Component Sample Boxes
Our 2022-23 sample box features products that have shown their resilience at withstanding the ongoing supply chain crisis that has been a feature of our industry for the past two years. A good selection of 32.768kHz watch crystals are included in sizes ranging from 3.2x1.5mm  down to the ultra-miniature 1.6x1.0mm packages. We've also included five popular frequencies from our ultra-miniature high frequency crystal range: 40.0MHz, 32.0MHz, 26.0MHz, 24.0MHz and 16.0MHz. The 2022-23 sample box also carries the robust GSX49-4 crystal which is still widely available at great commercial prices over a wide frequency range with fundamental mode up to 50MHz. The three included oscillators feature great phase jitter performance along with excellent stability options.
Each of the high frequency components included within the box are also available at a wide range of frequencies and stability options in addition to the specific examples included.
If you have any questions of would like advice on using any of our samples please get in touch with our expert team. Our frequency specialists have an average of 17 years experience within the industry and are always happy to help. You can get in touch with a member of our team by emailing sales@golledge.com or by calling + 44 1460 256 100.
MP10739
32.768kHz
GSX-317
3.2x1.5mm Crystal
±20ppm
6pF
GSX-317 datasheet here

MP10740
32.768kHz
GSX-317
3.2x1.5mm Crystal
±20ppm
7pF
GSX-317 datasheet here

MP10830


32.768kHz 




GSX-317




3.2x1.5mm Crystal




±20ppm




6pF



MP09018


32.768kHz




GWX-2012




2.0x1.2mm Crystal




±20ppm




7pF




MP08391
32.768kHz
GWX-1610
1.6x1.0mm Crystal
±20ppm
7pF
GWX-1610 datasheet here

MP10199
40.0MHz
GSX-323/X
3.2x2.5mm Crystal
±9ppm calibration
±15ppm stability
12pF
-40 to +85°C
30 ohms
GSX-323 datasheet here

 

MP06003
32.0MHz
GSX-223/1P3MF
2.0x1.6mm Crystal
±10ppm calibration
±15ppm stability
8pF
-30 to +85°C
GSX-223 datasheet here

MP10200

26.0MHz
GSX-333/332EF
3.2x2.5mm Crystal
±30ppm calibration
±30ppm stability
18pF
-20 to +70°C
GSX-333 datasheet here

MP10219
24.0MHz
GSX-333/1P4NF
3.2x2.5mm Crystal
±10ppm calibration
±15ppm stability
9pF
-40 to +85°C
GSX-333 datasheet here

MP10204
16.0MHz
GSX-323/X
3.2x2.5mm Crystal
9pF
GSX-323 datasheet here

MP10217


16.0MHz




GSX49-4/354EF




±30ppm calibration




±50ppm stability




18pF




-40 to +85°C



MP10218


27.0MHz 




GXO-2201L/X




2.0x1.6mm Oscillator




3.3V



MS05962


25.0MHz




GXO-U108L/B




7x5mm Oscillator



MA06330


7.37280MHz




GXO-U108L/B




7x5mm Oscillator




±30ppm calibration




±50ppm stability




-20 to +70°C




18pF