An update to Golledge Electronics' collection of component libraries for EDA
6 Feb 2017
EMILY LAWRIE - MARKETING
Following the success of our CADSoft Eagle part library, Golledge are introducing two new part libraries and an update to our original library to help achieve our mission of providing for every detail of a company's frequency product needs, from development to delivery.
Golledge Altium Designer Part Library
The success of Altium Designer in the electronic design automation market is due in no small part to their belief that:
Embracing that challenge is part of a designer's day-to-day role and Altium have made it their mission to help them in every way that they can.
"the greatest challenge for successful products today lies in the design process"
With built in FPGA design tools, 3D visualisation of PCB design and mechanical CAD integration, Altium Designer provides users with a comprehensive package of design tools.
The Golledge Altium Designer library of parts is suitable for installation straight into the libraries section of your Altium package. Simply download the library here and install by copying the Golledge.IntLib file from the downloaded zip package, into to the Altium library directory. Full installation instructions are contained within the readme.txt file of the Golledge library download.
Golledge Pulsonix Part Library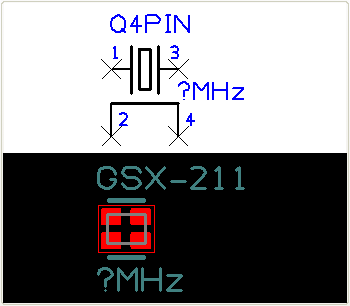 Pulsonix, a relatively new entrant into the PCB design market is a suite of software solutions designed and created by a leading team of EDA professional, Microsoft certified developer, software engineers. Featuring schematic capture, PCB design and spice simulation Pulsonix provides a standard windows interface, making it as intuitive as possible for the user, meaning you spend less time learning the tool and more time creating.
Download the Golledge Pulsonix part library here in one click (no registration details required)
To install the Golledge Pulsonix library within Pulsonix software simply download the Golledge library and then copy the Golledge library files from the downloaded zip package, into to the Pulsonix MasterLibraries directory. Full installation instructions are contained within the readme.txt file of the Golledge library download.
Update to the Golledge CADSoft Eagle Library – now Golledge Eagle Library
In June 2016 CADSoft Eagle was purchased by Autodesk Inc, a US-based global business with major strengths in providing professional solutions with accessible versions, and creating the best user experience possible.
Since their acquisition, Autodesk has developed Eagle into an accessible tool and here at Golledge we're excited about how Autodesk will continue to develop Eagle into the future. Look out for an increase in usability and, with Autodesk's wide line up of software solutions, further integration into their tool chain. As recent Autodesk company news states:
"Autodesk is in the business of giving our customers the best tools possible to solve their businesses' - and the world's-biggest challenges"
It will be interesting to see how Eagle develops along these lines.

You can continue to download the most recent version of the Golledge Eagle library here which can be installed simply by dragging the library package into the "lbr" folder within Eagle.
As always we'd love to hear your comments on how we can improve our libraries, get in touch at engsupport@golledge.com Happy designing.