Introducing the CADSoft Eagle Golledge Part Library
21 Jan 2016
EMILY LAWRIE - MARKETING
The full list of Golledge recommended parts is now available to download as a CadSoft EAGLE library package
Save design time and engineering resources using our new Golledge part library.
Full schematics and links to purchasing details make for more accurate design and easier product selection.
CadSoft EAGLE offers over 25 years of experience, free support through their forums, and is based on a shared open source user language, meaning each library is easily customisable to your needs.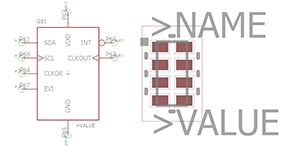 Created by our expert analogue engineer, the Golledge library features the full range of Golledge recommended products including crystals, oscillators, TCXOs, VCXOs, OCXOs, real time clock modules and filters.
Golledge Part Library Features
Suitable for PCB design using CadSoft EAGLE software the Golledge Part Library contains full schematics and package details, including layout, footprint and height for over 70 Golledge families of parts, which represents many thousands of combinations of purchasing options.
As well as full schematics for a large range of product families we've also included editable examples of our large range of SAW filter packages to make designing with these products faster and even easier than before.
For each product family a quick link to the corresponding Golledge web page is included so purchasers can easily request a quotation for products and access full datasheets for even more information.
We've also included a full breakdown of the product type within the description of each product to allow you to quickly sort by product type using Eagle's column sort functionality.
The full library is completely free and is available from Golledge as a .lbr ready for installation into CadSoft EAGLE, and comes complete with installation instructions.
You can also access the library file through the CadSoft EAGLE site.