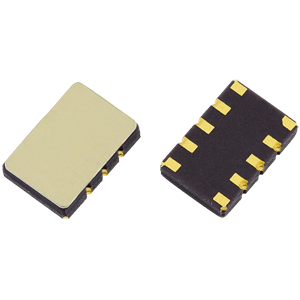 RV-3129-C3
RTC I2C bus
Temperature compensated accuracy
AEC-Q200 compliant option
Compliant with I2C-Bus interface (400kHz)
Backup battery input (internal switchover)
Miniature ceramic package with castellations
Specifications
Frequencies (selectable)
32.768kHz, 1024Hz, 32Hz, 1Hz

Dimensions
3.7 x 2.5 x 0.9mm

Frequency tolerance @ 25°C
±10ppm typ, ±20ppm max

Time accuracy (option A)
±3ppm max (0.26s/day), 25°C
±4ppm max (0.35s/day), -0+50°C
±5ppm max (0.43s/day), -10+60°C
±6ppm max (0.52s/day), -40+85°C
±8ppm max (0.69s/day), -40+125°C

Time accuracy (option B)
±3ppm max (0.26s/day), 25°C
±5ppm max (0.43s/day), -0+50°C
±10ppm max (0.86s/day), -10+60°C
±25ppm max (2.16s/day), -40+85°C
±30ppm max (2.59s/day), -40+125°C

Storage temperature range
-55 to +125°C

Ageing
±3.0ppm max first year

Supply voltage (VDD)
Ditigally temperature compensated 2.1 ~ 5.5V
I2C bus active 1.8 ~ 5.5V
Time-keeping mode 1.3 ~ 5.5V

Supply current (VDD=3.0V)
0.80µA typ, 1.0µA max

Shock and vibration resistance
±5ppm, 5,000g, 0.3ms, ½ sine
±5ppm, 20g, 10.0 ~ 2,000Hz

Soldering condition
Reflow, 260°C, 20 sec max

Package Drawing
Ordering Information
To request a quotation for the RV-3129-C3 please use the configurable options form to choose the options you require and then submit your configured product to our team. Our expert advisers are always happy to help with your requirements and can be contacted on +44 1460 256 100 or at sales@golledge.com.
Following product selection you will be issued with a seven character Golledge part number. Your Golledge part number is the internationally accepted Golledge manufacturing part number (MPN) that should be used for all project documentation, including bills of materials (BoMs) and purchase orders.
If you have any queries regarding any of our documentation our dedicated sales team will be happy to help.
Technical Resources
Applications
The RV-3129-C3 real time clock is a versatile component suitable for a wide range of applications and uses including:
Automotive including car radio, GPS and other tracking systems, dashboard devices, tachometers, entertainment systems, and engine control
Industrial and consumer electronics
Metering including E-meter and heating counters
Portable devices
White goods
Tape & Reel Specification
A:178 / B:12 / C:4 / D:2.7 / E:4 / F:1 / G:61.5 / H:21
Handling & Storage
Human Body Model (HBM) 1A (250V to <500V)
Moisture Sensitivity Level (MSL): 1 (or not applicable)
Construction
Ceramic package with metal lid
Compliance
Lead-free (< 0.1% by weight )
RoHS compliant with no exemptions. See our declaration
REACH compliant. See our statement
Free of conflict minerals. See our declaration
Free of Halogens. See our declaration
Free of Ozone-depleting substances. See our declaration
Supply Partner
The RV-3129-C3 is manufactured by Micro Crystal and stocked and supplied by Golledge.