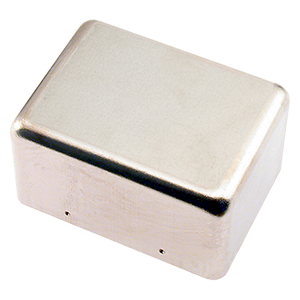 HCD351
5V Tight Stability OCXO with CMOS/TTL Output
Temperature stability down to 5ppb
Single 5V oven & oscillator supply
Compact package
Standard European IEC CO-08 pin-out
Custom options available
Specifications
Frequency range
5.0 ~ 20.0MHz

Dimensions
36.1 x 27.2 x 19.4mm

Frequency stability
< ±5x10-8 per year
< ±1x10-9 per 10% change in VDD

Short term stability
< ±1x10-11 over 1 sec

Storage temperature range
-40 to +90°C

Output waveform
CMOS / TTL compatible

Frequency adjustment
±5x10-7 (typ) over +0.5 to +4.0V
(sufficient for 10 years ageing min)
Stabilised +4.0V supply provided

Power consumption
5.0W max at switch on
1.2W typ when stabilised at 25°C

Warm up
< ±2x10-8 after 8mins at +20°C

Phase noise (@ 10.0MHz)
< -120 dBc/Hz @ 10Hz
< -130 dBc/Hz @ 100Hz
< -150 dBc/Hz @ 1kHz
< -155 dBc/Hz @ 10kHz
< -155 dBc/Hz @ 50kHz

Harmonics
< -30dB wrt carrier

Shock (IEC 68-2-27 Test Ea)
50g for 11ms

Vibration (IEC 68-2-06 Test Fc)
10-55Hz, 1.5mm. 55-500Hz, 10g

Package Drawing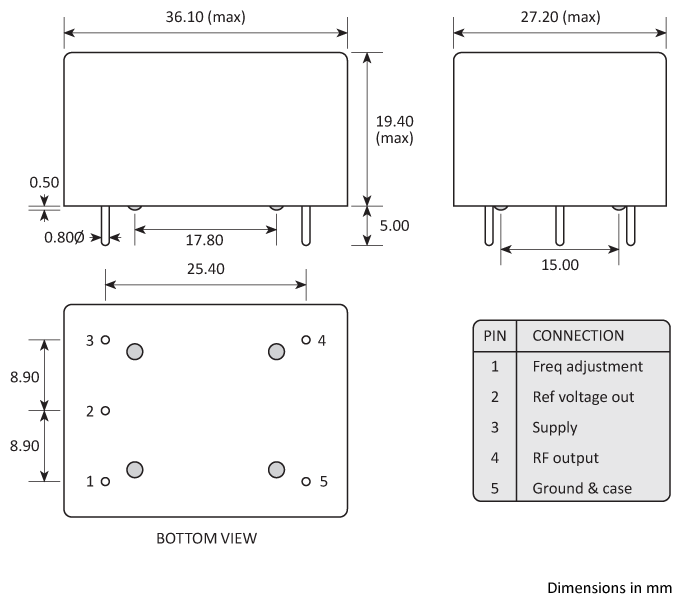 Ordering Information
To request a quotation for the HCD351 please use the configurable options form to choose the options you require and then submit your configured product to our team. Our expert advisers are always happy to help with your requirements and can be contacted on +44 1460 256 100 or at sales@golledge.com.
Following product selection you will be issued with a seven character Golledge part number. Your Golledge part number is the internationally accepted Golledge manufacturing part number (MPN) that should be used for all project documentation, including bills of materials (BoMs) and purchase orders.
If you have any queries regarding any of our documentation our dedicated sales team will be happy to help.
Handling & Storage
Human Body Model (HBM) 1A (250V to <500V)
Moisture Sensitivity Level (MSL): 1 (or not applicable)
Compliance
Lead-free (< 0.1% by weight )
RoHS compliant with no exemptions. See our declaration
REACH compliant. See our statement
Free of conflict minerals. See our declaration
Free of Halogens. See our declaration
Free of Ozone-depleting substances. See our declaration