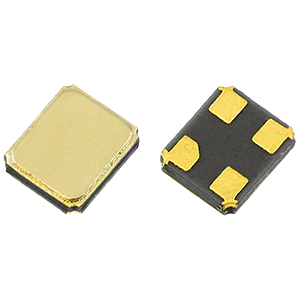 GSX-113
Ultra miniature low profile SM Crystal
Fundamental mode up to 80.0MHz
Ultra-miniature for maximum space saving
Low profile and light weight for smart cards
Seam sealed for excellent long-term stability
Compatible with latest ASIC designs
Specifications
Frequency range
32.0 ~ 80.0MHz

Dimensions
1.25 x 1.05 x 0.35mm

Storage temperature range
-40 to +125°C

Equivalent series resistance
120Ω max @ 32.0MHz
100Ω max @ 40.0MHz
60Ω max @ 48.0MHz
40Ω max @ 76.8MHz

Ageing
±1ppm max first year

Test drive level
10µW

Soldering condition
260°C, 10 sec x2 max

Net mass
1.69mg

Package Drawing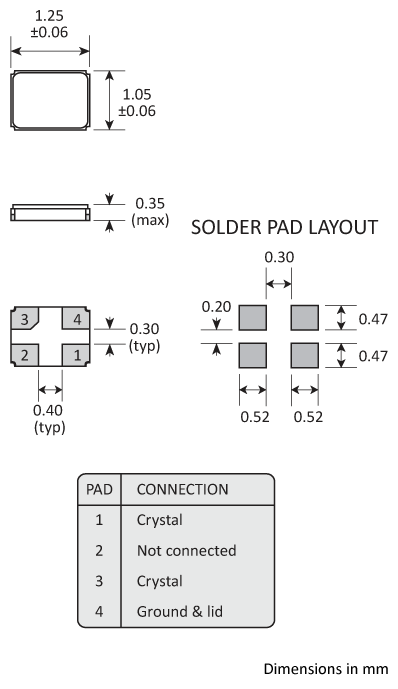 Ordering Information
To request a quotation for the GSX-113 please use the configurable options form to choose the options you require and then submit your configured product to our team. Our expert advisers are always happy to help with your requirements and can be contacted on +44 1460 256 100 or at sales@golledge.com.
Following product selection you will be issued with a seven character Golledge part number. Your Golledge part number is the internationally accepted Golledge manufacturing part number (MPN) that should be used for all project documentation, including bills of materials (BoMs) and purchase orders.
If you have any queries regarding any of our documentation our dedicated sales team will be happy to help.
Applications
Our crystals and oscillators are regularly supplied for use with industry-leading ICs, from world-leading manufacturers including:
Analogue Devices
Atmel (Microchip Technology Inc.)
Broadcom
Dialog Semiconductor PLC
Intel
Nordic Semiconductor
NXP Semiconductors
Qualcomm (and CSR)
Silicon Labs
STMicroelectronics
Texas Instruments (TI)
Xilinx
and more...


If you'd like more information about chipset compatibility please get in touch with our team here.
Marking

Soldering Profile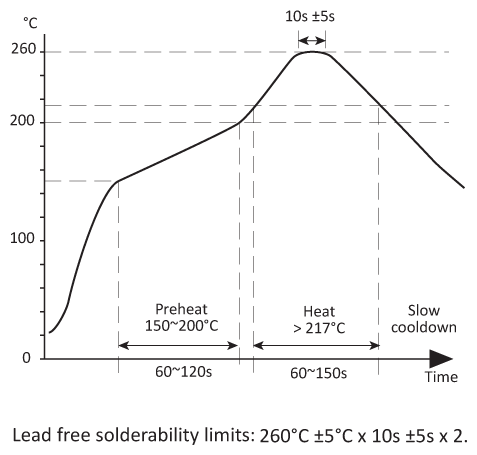 Tape & Reel Specification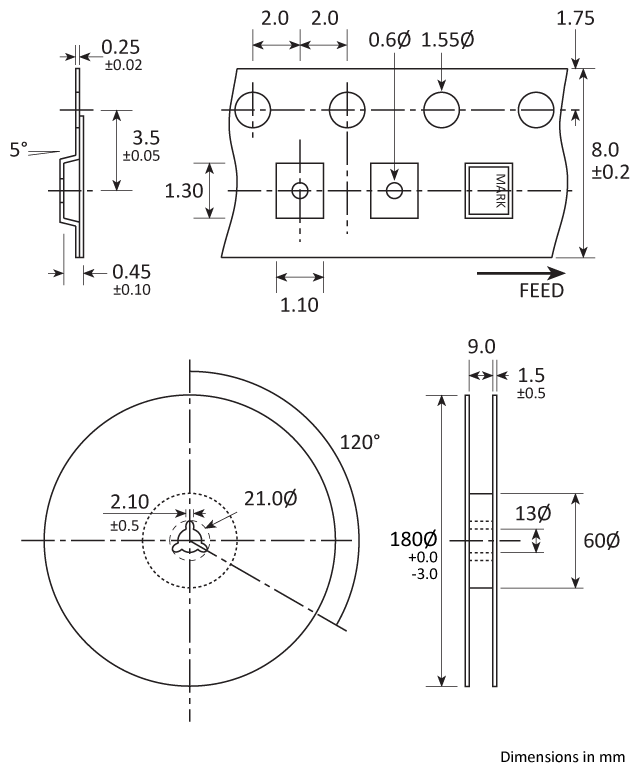 Handling & Storage
Human Body Model (HBM) 1A (250V to <500V)
Moisture Sensitivity Level (MSL): 1 (or not applicable)
Construction
Ceramic body with gold-plated pads
Metal lid, seam sealed
Compliance
Lead-free (< 0.1% by weight )
RoHS compliant with no exemptions. See our declaration
REACH compliant. See our statement
Free of conflict minerals. See our declaration
Free of Halogens. See our declaration
Free of Ozone-depleting substances. See our declaration