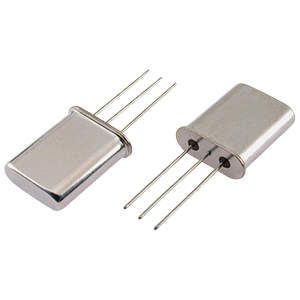 GMCF-10 10G30B
10.7MHz 4 pole crystal filter with 30.0kHz 3dB bandwidth
Comprehensive stocks
Custom specifications available
Specifications
Centre frequency
10.7MHz

Dimensions
11.05 x 4.65 x 13.46mm

Operating temperature range
-20 to +70°C

Number of poles
4

Pass band
-3dB @ ±15.0kHz min

Attenuation band
-30dB @ ±40.0kHz max

In-band ripple
1.0dB max

Insertion loss
2.5dB max

Guaranteed attenuation
-65dB max +300 ~ +1000kHz
-80dB max -250 ~ -1000kHz

Termination
5000Ω // -1.0pF

Coupling capacitance (CC)
0.5pF

Package style
HC49/3Lx2

Package Drawing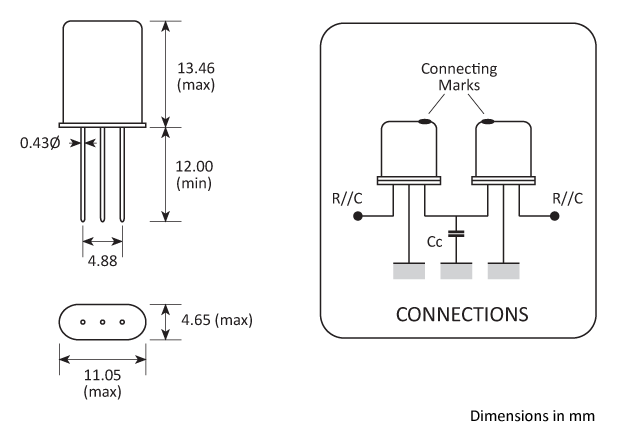 Ordering Information
To request a quotation for the GMCF-10 10G30B please use the configurable options form to choose the options you require and then submit your configured product to our team. Our expert advisers are always happy to help with your requirements and can be contacted on +44 1460 256 100 or at sales@golledge.com.
Following product selection you will be issued with a seven character Golledge part number. Your Golledge part number is the internationally accepted Golledge manufacturing part number (MPN) that should be used for all project documentation, including bills of materials (BoMs) and purchase orders.
If you have any queries regarding any of our documentation our dedicated sales team will be happy to help.
Handling & Storage
Human Body Model (HBM) 1A (250V to <500V)
Moisture Sensitivity Level (MSL): 1 (or not applicable)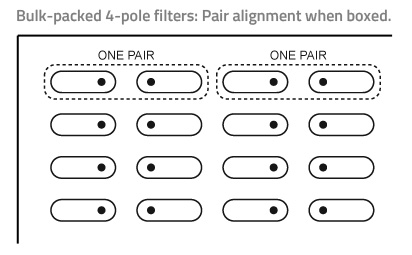 These filters are individually matched pairs. One filter is composed of two physical units, which have been factory-matched for optimum performance.
DO NOT MIX. Unmatched pairs will offer impaired performance.
For filters supplied in boxes, please refer to the above diagram.
Matched pairs may also be supplied in individual bags.
Construction
Resistance weld
Compliance
Lead-free (< 0.1% by weight )
RoHS compliant with no exemptions. See our declaration
REACH compliant. See our statement
Free of conflict minerals. See our declaration
Free of Halogens. See our declaration
Free of Ozone-depleting substances. See our declaration