Mil-COTS Frequency Components for Defence and Aerospace
28 Jun 2016
EMILY LAWRIE - MARKETING
Making Mil-COTS components work for you
Throughout uncertain times many industries look towards cost cutting through reduction in R&D and material spending to survive, and the defence and aerospace industry is no exception.
After several years of spending reduction there is now an increased trend towards buying commercial-off-the-shelf (COTS) components. This trend is impacting many component suppliers, including the frequency industry.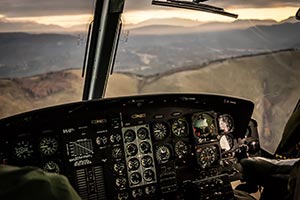 The defence and aerospace industries present a unique challenge for the component buyer
Cost-saving through testing reduction can only go so far in an industry where many parts are expected to perform within high-vibration environments and under high-shock conditions. Military-standard frequency components typically need to perform to up to a -55 to 125°C temperature range and be able to withstand harsh shock and vibration specifications.
In days-gone-by regular testing of frequency components to military standards such as MIL-STD-202, MIL-STD-2164 and MIL-STD-833E meant that component quality was assured. For the toughest regulation requirements these tests are still available, but nowadays buyers are increasingly achieving cost-savings by using COTS components. This can present a challenge to ensure there is no compromise on quality.


Meeting the challenge
The vendor-vetting stage of the procurement process is naturally a lot more stringent and greater quality checks are applied to suppliers of components expected to perform in the defence arena. These suppliers need to be able to demonstrate their quality and commercial credentials beyond a shadow of a doubt and will ideally have proven their merit through many years of experience in the industry. Vendors can also be vetted for the robustness of their own supply chains and their ability to withstand economic and political shocks.
In order to provide the best solution to the defence and aerospace industries, frequency component suppliers have developed three levels of qualification for parts that are destined to be used in defence and aerospace applications:


Industrial qualification
Traditionally known as COTS components, these parts are usually tested to industrial standards which include proving the component over a -40 to +85°C temperature range.
When buying COTS components the impetus is entirely on the end user to prove the components in-application before releasing their product. Industrial-grade components are much more likely to be available off-the-shelf which can result in significant time savings. However the buyer must be aware that these components have not been tested up to the full military standards and so are not guaranteed to work under military conditions.


Mil-COTS qualification
In addition to industrial qualification, the military version of providing COTS components (Mil-COTS) can include qualification of some specifications up to the levels required by full military standards. In particular within the frequency component industry Mil-COTS components are usually proven over a temperature range of -55 to +125°C and custom shock and vibration testing can be requested.
This level of pre-purchase testing allows for an amount of risk to be adopted by the component supplier prior to build through their guaranteeing it will meet agreed conditions. However, as no laboratory testing can fully replicate conditions in-the-field it is likely that full-product testing will still need to be undertaken.


Formal release under the full military standard qualification
By insisting that full military procedure testing is undertaken prior to purchase, the end-customer is ensuring the majority of risk is taken by the supplier. However, it is likely that some in-application testing will still need to be undertaken to prove the component in the unique environment it is required to perform in.
Where a full formal-release of components is required, the frequency industry is now beginning to see many OEM companies using strategic purchasing techniques, buying COTS components where they can in order to free-up budget to allow for more testing in the areas where it's really needed.


Making Mil-COTS components work for you
Provided the quality standard of components can be assured, the move to Mil-COTS components can work wonders for project budgets where standard specification parts are all that are required. OEMs supplying to these arenas can leverage off their increased buying power to reduce costs and ensure their own prices are as competitive as possible.


Golledge Electronics can offer components at each tier of qualification, from industrial qualification through to products fully-qualified to military standards, and we are always happy to advise on the intricacies of sourcing Mil-COTS components.