GRX-330 | Our Brand New Automotive AEC-Q200 Qualified SM Crystal
19 May 2014
NIGEL COLE - COMMERCIAL MANAGER
The brand new GRX-330 is an automotive-focused surface mount crystal with AEC-Q200 qualified as standard, and a mechanically robust 3225 format package.
Suitable for operation over -40 to +85°C, or optionally at extended temperature range of -40+125°C, the GRX-330 is available at frequencies from 12.0 to 40.0 MHz.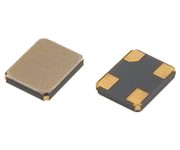 Incorporating a miniature ruggedized mounting, the crystal blank within this automotive component offers high reliability and excellent shock and vibration resistance at a cost which makes it highly desirable for use in high volume non-safety critical applications such as vehicle telematics, Car-to-Car and Car-to-Infastructure communications, In-vehicle internet & entertainment, Reversing/forward facing cameras, head up displays (HUDs) etc.
Check out full specifications and explore how the GRX-330 can help your project here