The updated Golledge Electronics New Designs Catalogue for 2021 is now available
30 Jun 2021
EMILY RUSHTON - MARKETING
The Golledge Electronics New Designs Catalogue has been updated to ensure it continues to feature the key components we recommend for new designs in 2021.
The recent market upheaval within the frequency product supply chain has meant that we no longer recommend designing in some models which featured our previous New Designs Catalogue for 2021. In particular the GXO-7531, GVXO-331 and the GSX-200 families of components are now subject of end of life notifications. You can find more information about these changes in the product family pages for the GXO-7531, GVXO-331 and GSX-200, or speak to our team today by calling +44 1460 256 100.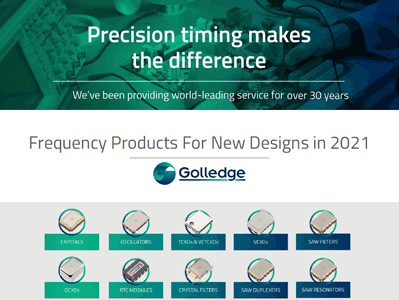 Our updated 2021 New Designs Catalogue still includes the watch crystals, high frequency crystals, oscillators, temperature compensated oscillators (TCXOs), voltage controlled oscillators (VCXOs), oven controlled oscillators (OCXOs), crystal filters, and SAW devices, that we recommend for new designs being completed this year. 
If you're designing for a new project and are looking for ultra-miniature, high accuracy or tight specification components, and the best commercial solution available for your project, then we can help. Whether you need standard parts with exceptional commercial pricing for a high volume project, or if you are looking for a custom solution for your project, you can find the frequency components you need in our 2021 New Design Catalogue.


Download the Golledge Electronics New Designs Catalogue for 2021 here
Alternatively speak to a member of our expert frequency team for help with your component selection